Published: 13 Apr 2017
Lake Taho: In the month of May, ILT with our partners Ivan Bychkov, Debbie Walton and Wendy Hinman and Grigore Cheptene organized an youth retreat called Unveil.The purpose of the retreat was to lead the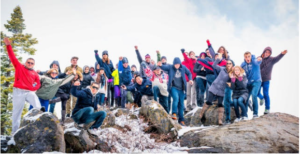 youth through a series of experiential events and activities that will identify reaction to different relationship challenges. That allowed them to discover the essentials of the future marriage and to increase their self-awareness. Through an intensive program of activities and engaging games, the participants were helped to take off their masks and reveal themselves. The resonance of the event was so that our team decided to hold regularly such event nationally and even internationally.
More information you can get on www.unveil.today

Middle E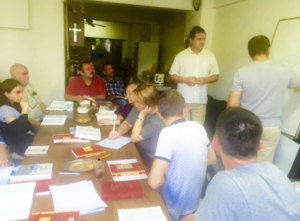 astern Counry: In the beginning of June, Svetlana and I traveled to Central Asia and Europe. I was invited by the head of Pentecostal Union of one of the countries where Christians are persecuted to lead a pastoral training. Then we traveled to another city where we are worked with our partners on strengthening an indigenous self-sustaining Disciple Making Movement in this Middle Eastern country.
Orange County and San Diego:
We are continuing our efforts on reaching out to the immigrant community in Southern California. God blessed us with few active teams committed to form Discover Bible Study groups with nonbelievers. We are using Volleyball, hiking, biking and other ways to get to them in search for the person of peace.
I am praying for the partnership with two new FCA (Fellowship of Christian Athletes) leaders who opened up for the partnership in reaching out the immigrants in our area.
July 6-9 we had an wonderful retreat on the Catalina Island with Orange County Slavic Church
Vancouver, WA: The month of July was dedicated to these two retreats Erie (July 9-18) and Vancouver WA (July 26 to August 2nd)
The participants were given the opportunity to sign up for practical disciple making training. As a result we are having two new Skype DM (Disciple making) groups. We have had the first meeting and everyone got their homework assignments to lead a Discover Bible Study meeting with at least one non believer.
I am praying that God will help them fulfilling their commitments.
Praise:
We are continuing our DMM groups in San Diego Area.
It is encouraging to see the spiritual growth of Imam Mahmud (the name is changed) who is risking his life by hosting the Bible Study right in his Mosque.
He is leading now the Bible Study with that group.
Pray:
We still struggle to see the second generation of disciples in our area
Please pray for my son's Emanuel baptism scheduled for this coming Sunday. Pray also for Michael, a recent disciple who will get baptized this Sunday as well.
Please keep Ruben in your prayers. Ruben is Veniamin's disciple who accepted Christ but still not convinced that he is ready for baptism.
Please continue to pray for the repentance of the three other Imams from the nearby mosques who are now showed interested in the Bible.